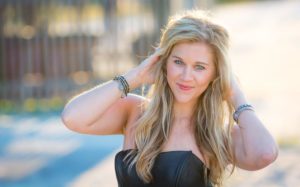 Aubrey Wollett is a little mix of sunshine and a
soulful voice, then add a little country/pop flair. Her
smooth, soulful voice along with her acoustic guitar
playing will take you to the beach no matter
where you are. Her musical influences range from
Shania Twain to Dixie Chicks, from Motown to
Colbie Caillat.
The Florida native singer-songwriter originally worked on the
business side of the industry for some of the top songwriters
in Nashville while finishing college and pursuing her own
music career.
She learned from some of the best, pinning hits for Luke Bryan, Lady
Antebellum, and Jason Aldean, among many others. Wollett has spent
the past two years in Nashville fully focusing on writing and touring as an
artist, covering the Gulf Coast of Florida, Southern California, and
throughout Europe. She has also released her debut EP on iTunes, with
one of the songs being featured on TNT's The Duggar's. Wollett is
currently working on another EP and hopes to release it in the summer
of 2016.
Wollett adds a refreshing beachy vibe to this country music era with
her captivating sound and catchy songs. Wollett will no doubt leave you
wanting more!