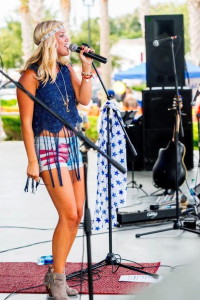 This summer has been one for the books! Not only did I check off boxes from my bucket list, but I was able to play music from coast-to-coast and meet so many new friends and fellow country music lovers. I spent a lot of time in the panhandle of Florida, where a piece of my heart will always be, and then made my way back and forth along the Gulf side to my hometown in the Tampa Bay area. There's nothing like being surrounded by family and friends who have supported my dreams every step of the way and continue to do so. I love Nashville, but it's refreshing to play for people who are eager for new music. Plus, who doesn't love playing on a sandy beach with a sunset for background lighting?
I even stepped foot on California sand for the first time. People were right, the weather is absolutely perfect! I played in Santa Monica at the Sonoma Wine Garden and Village Pub, and Music Heals Theatre in Palm Springs. Exploring along the way, I adventured through LA, Venice Beach, Hollywood, and even Disneyland!! I'm so grateful for the friends I met while I was in California. There were definitely moments where I wasn't exactly sure what my plans were, but hey, I'm just trying to live the gypsy life!
I know summer is technically over, but for me it's a state of mind. The sun's always shining and that feeling of freedom is still burning. The cure for anything is saltwater, so book a trip to Florida or California… where summer really never ends!
Download "Summer Never Ends" here! 
Check out my Summer Tour pictures here!