Music and Mary Kay, I couldn't think of two better things to mix in a girl's life. I recently have chosen to team up with Mary Kay and will be selling some of my favorite products at my shows. Not only do I LOVE what Mary Kay's brand stands for: Faith comes first, then Family, and then work, but I really do like their products. (Take it from someone with sensitive skin that is pretty picky about makeup.)
Another cool fact: Mary Kay will be a sponsor of the ACM's (Academy of Country Music Awards) this year!!  I cannot tell you how excited I am for this! ALSO, be on the lookout for chances to win FREE products off of my Facebook and Instagram! @aubreywolllett << You can also book me for a private Music + Mary Kay show with your friends when I come through your town! Who doesn't love a fun #GirlsNight !? You can check out my Tour dates and see when I'm close by. << Please email me at info@aubreywollett.com for more details if you're interested.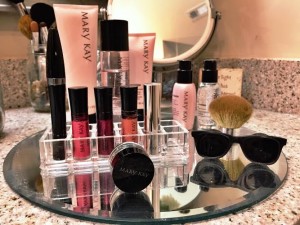 Here's a few of my Mary Kay favs that I wanted to share: Time Wise face wash and moisturizer, Lash Love Mascara, Gel Eyeliner, Fancy Nancy Lip Gloss, Nourishine Lip Gloss, Berry Dazzle Lip Gloss… basically ALL of their lip glosses 😉 … and I LOVEEE their satin hands lotion!! Hey Guys… There's also a cool line of mens products for you to check out.
If you have any questions about the products, please don't hesitate to email me. info@aubreywollett.com << And the best part is that you can order directly from me here! 🙂
|| Be Your Own Kind Of Beautiful ||